OCT Angiography & congress

Next congress:
Friday, october 14, 2016, Chicago, IL
OCT Angiography Summit

December 16 & 17, 2016
Fourth international "OCT Angiography, en face OCT and advances in OCT" Congress
Rome, Italy


May 7-11, 2017, Baltimore, Maryland, USA
Association for Research in Vision and Ophthalmology (ARVO)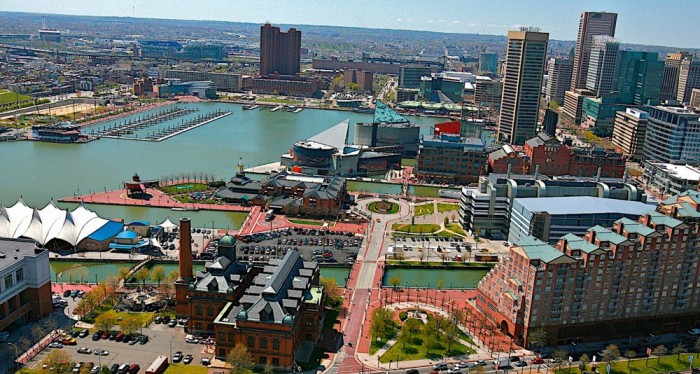 May 6-9, 2017, Paris, France
Société Française d'Ophtalmologie (SFO)
SFO Société Française d'Ophtalmologie 2017


Last congress:
December 11-12, 2015 Rome, Italy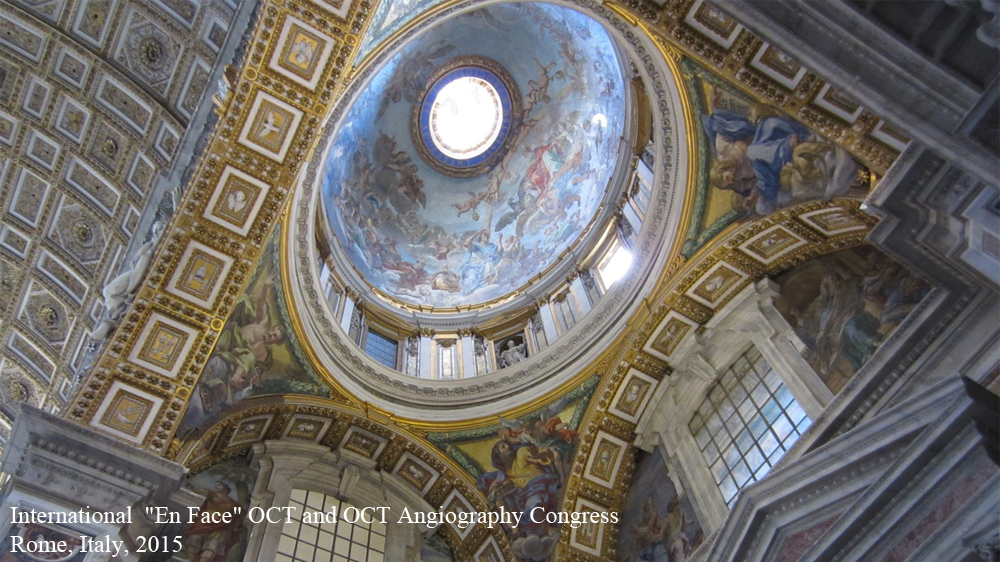 November 14-17, 2015, Las Vegas, Nevada, USA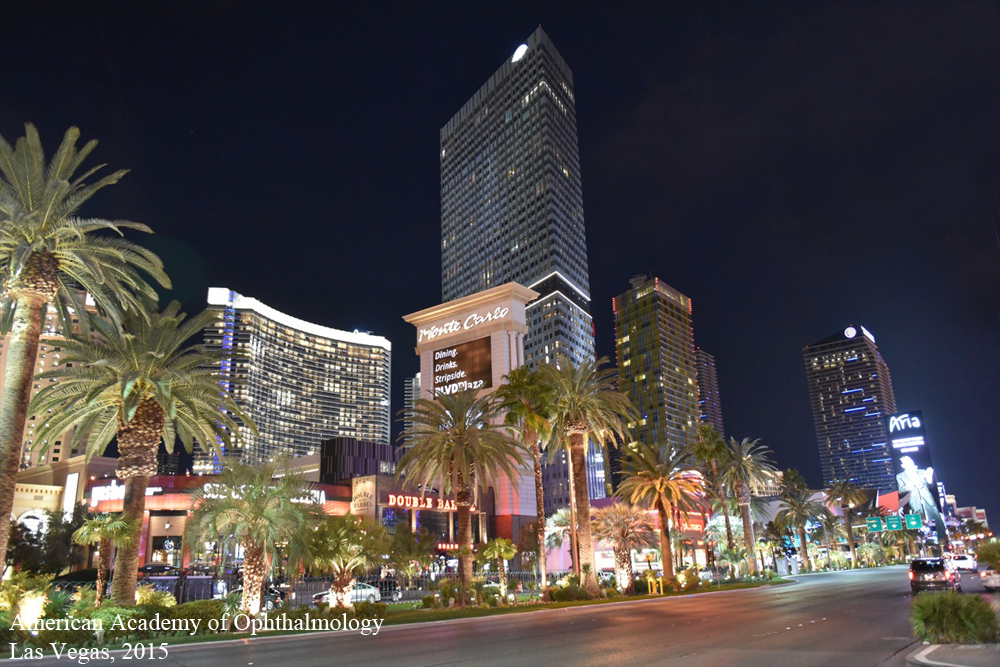 11 Septembre 2015

DMLA en pratique, Paris, France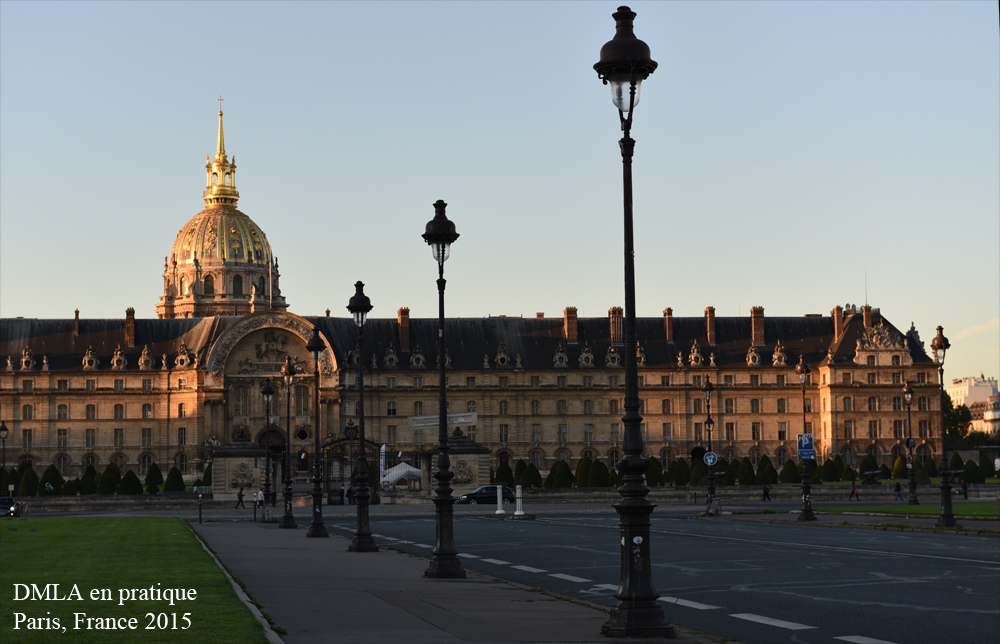 July 25, 2015

First annual OCT angiography Summit in Portland, Oregon, USA
(next Summit in Portland => July 2017)
David Huang, M.D., Ph.D., Yali Jia, Ph.D., James G. Fujimoto, Ph.D.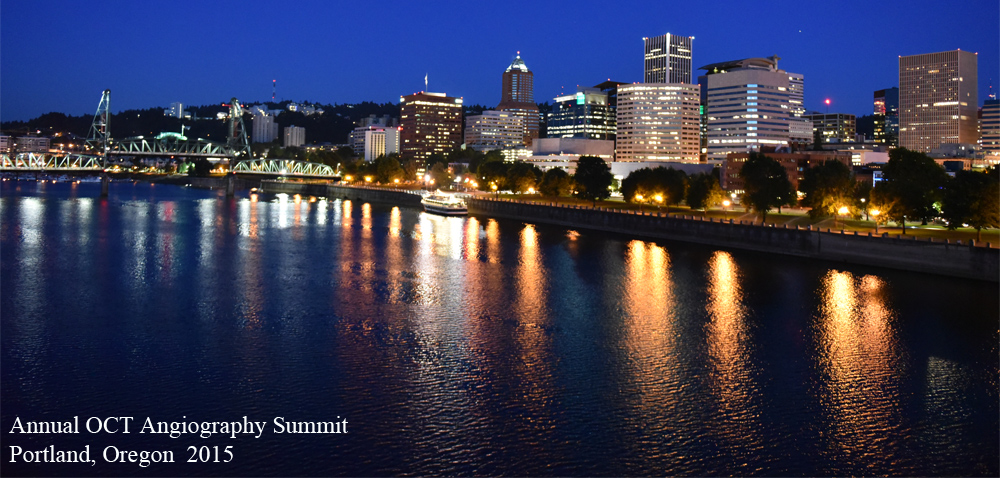 Premier sommet annuel sur l'OCT ANGIOGRAPHY, les orateurs furent brillants, les sujets captivants et l'accueil fantastique !
First annual OCT ANGIOGRAPHY Summit, speakers were brilliant, captivating subjects and fantastic welcome!
I show you some pictures. Enjoy !

"First Annual OCT Angiography Summit Signals a New Era in Imaging Technology

Optical Coherence Tomography News Aug 25 2015


OCT Angiography: The Next Game Changer in OCT
Scientists, clinicians and engineers from throughout the world gathered in Portland, Oregon, USA for the first annual OCT Angiography Summit meeting. Participants spent the day sharing their knowledge and discussing applications of a breakthrough imaging technology that may someday transform the way we diagnose and care for patients with the most common causes of blindness, namely macular degeneration, glaucoma and diabetes. Currently, these innovations are being applied in ophthalmology and are proving to be a superior alternative to dye-based methods for visualizing and measuring blood flow in the back of the eye.
A Tale of Two OCT Angiography Technologies from One City
A funny thing about the Summit, held in Portland, Oregon, is that the two technologies opening new doors in OCT angiography were developed in Portland. These two techs powered several of the findings presented at the Summit. Why not begin with the split-spectrum amplitude-decorrelation angiography algorithm (SSADA)? This patent-pending technique is exclusively licensed for ophthalmology use to Optovue, Inc. and powers the AngioVue™ product which is now on the market outside the U.S. Yali Jia and David Huang, the latter a co-inventor of optical coherence tomography (OCT) in the 1990's, developed SSADA out of a deep interest in finding new and better ways to use OCT. The SSADA technology (owned by Oregon Health & Science University and available for licensing outside of ophthalmology) can map out the eye's smallest capillaries and measure blood flow in about three seconds with high resolution. ... (click the link above) "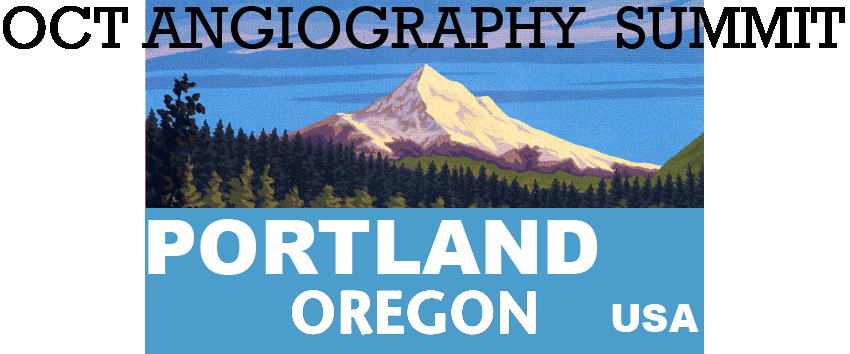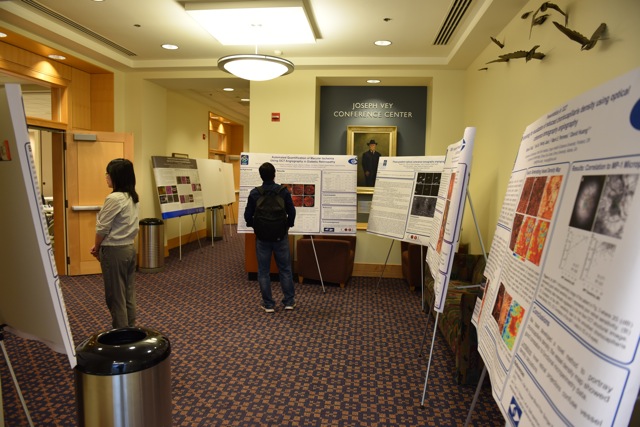 Joseph Vey Conference Center, floor 11th, Children Hospital, OHSU, Portland, Oregon, USA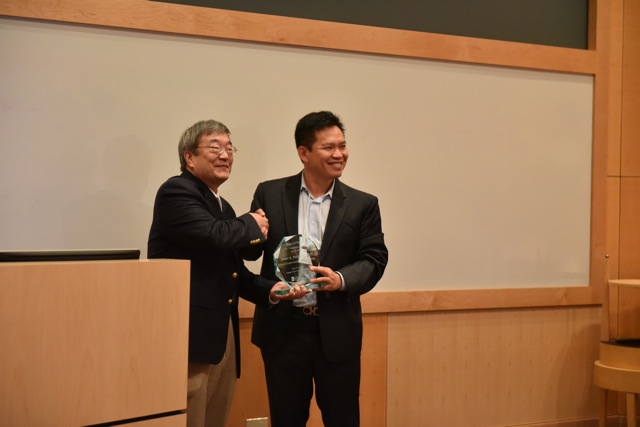 James Fujimoto, guest of Honor, and David Huang,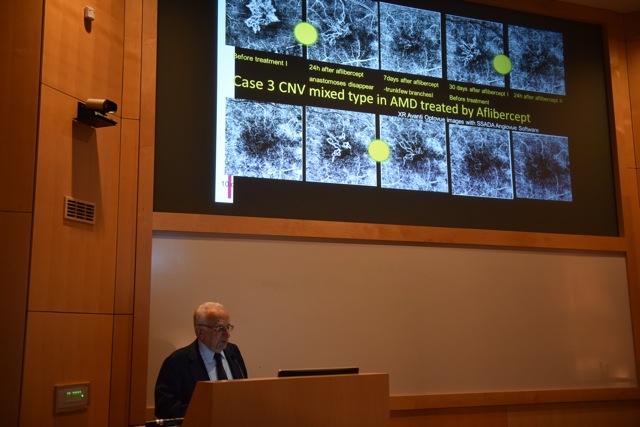 Pr Bruno Lumbroso, Rome, Italy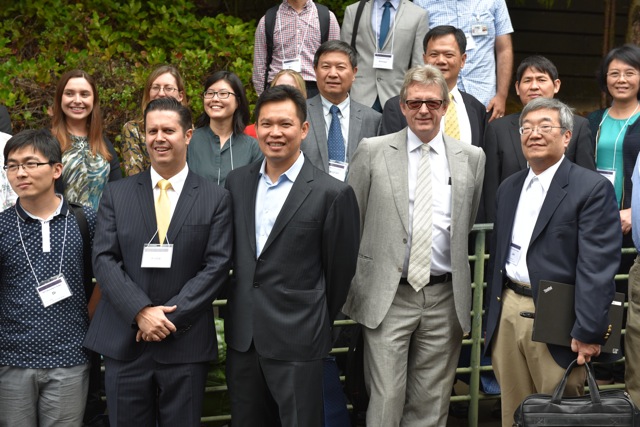 Pr Romano (Sao Paulo), Huang (Portland, OR), Puech (Paris) and Fujimoto (MIT)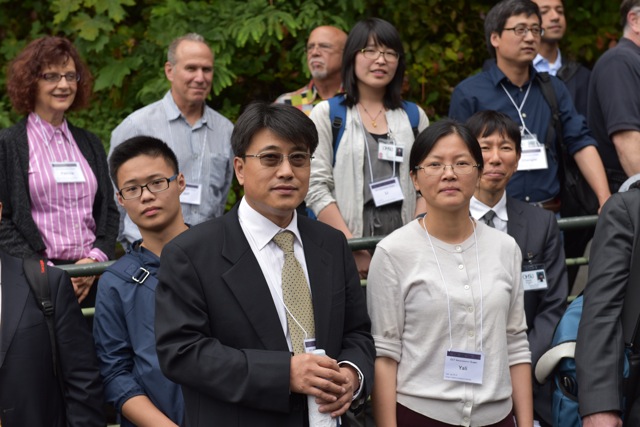 Yali Jia, OHSU, Portland, OR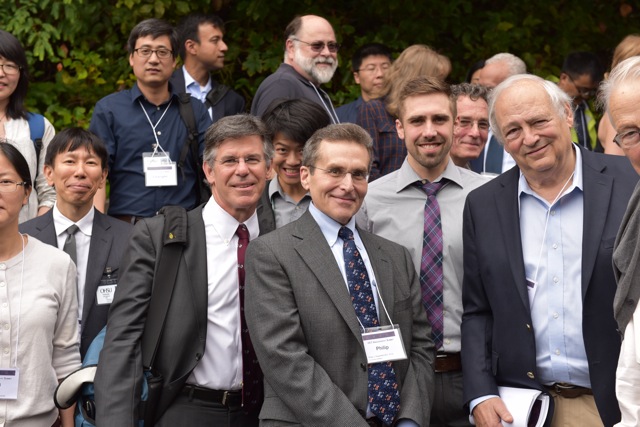 Pr David J.Wilson and Philip J.Rosenfeld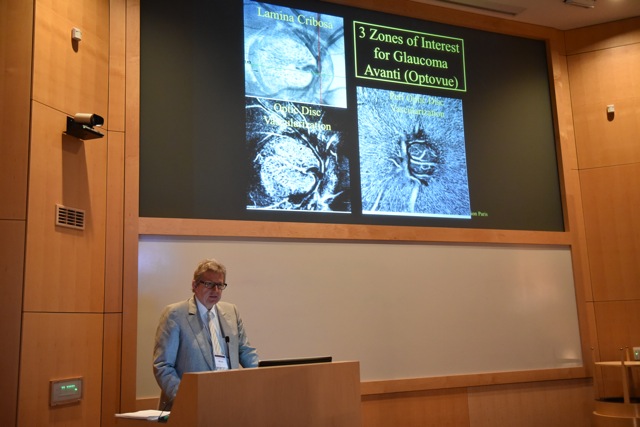 Dr Michel Puech, Paris, France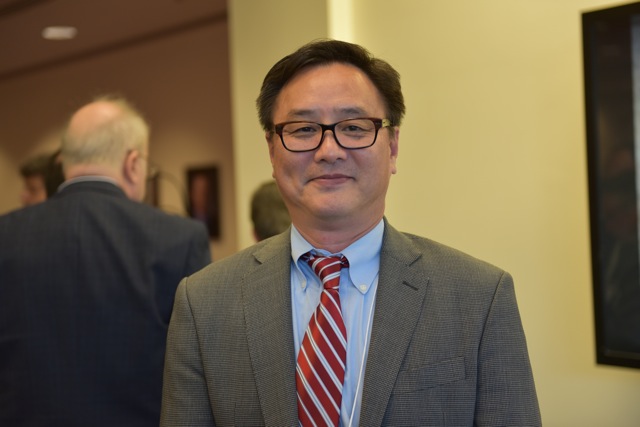 Jay Wei, Optovue Founder/Chief Executive Officer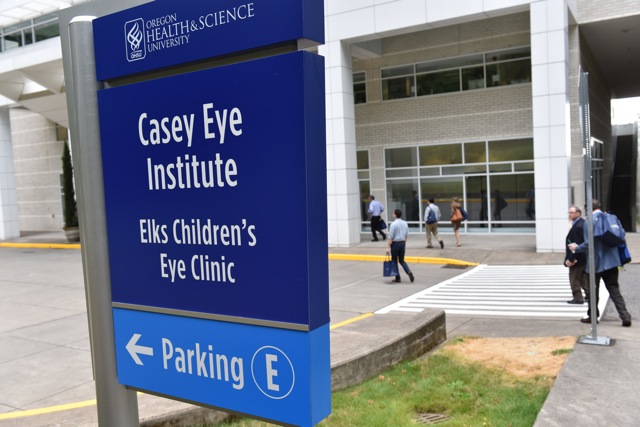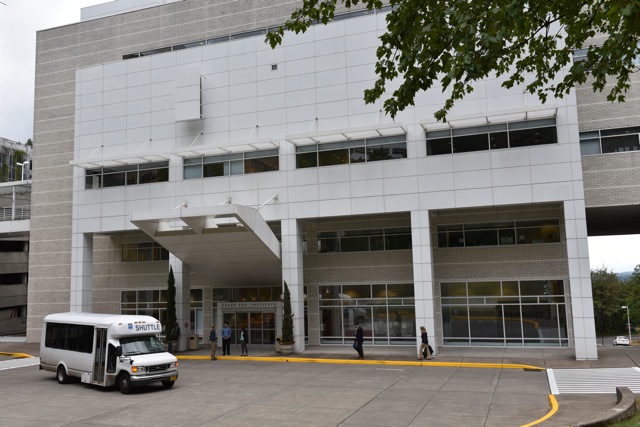 Casey Eye Institute, Elks Children's Eye Clinic, Portland, Oregon, USA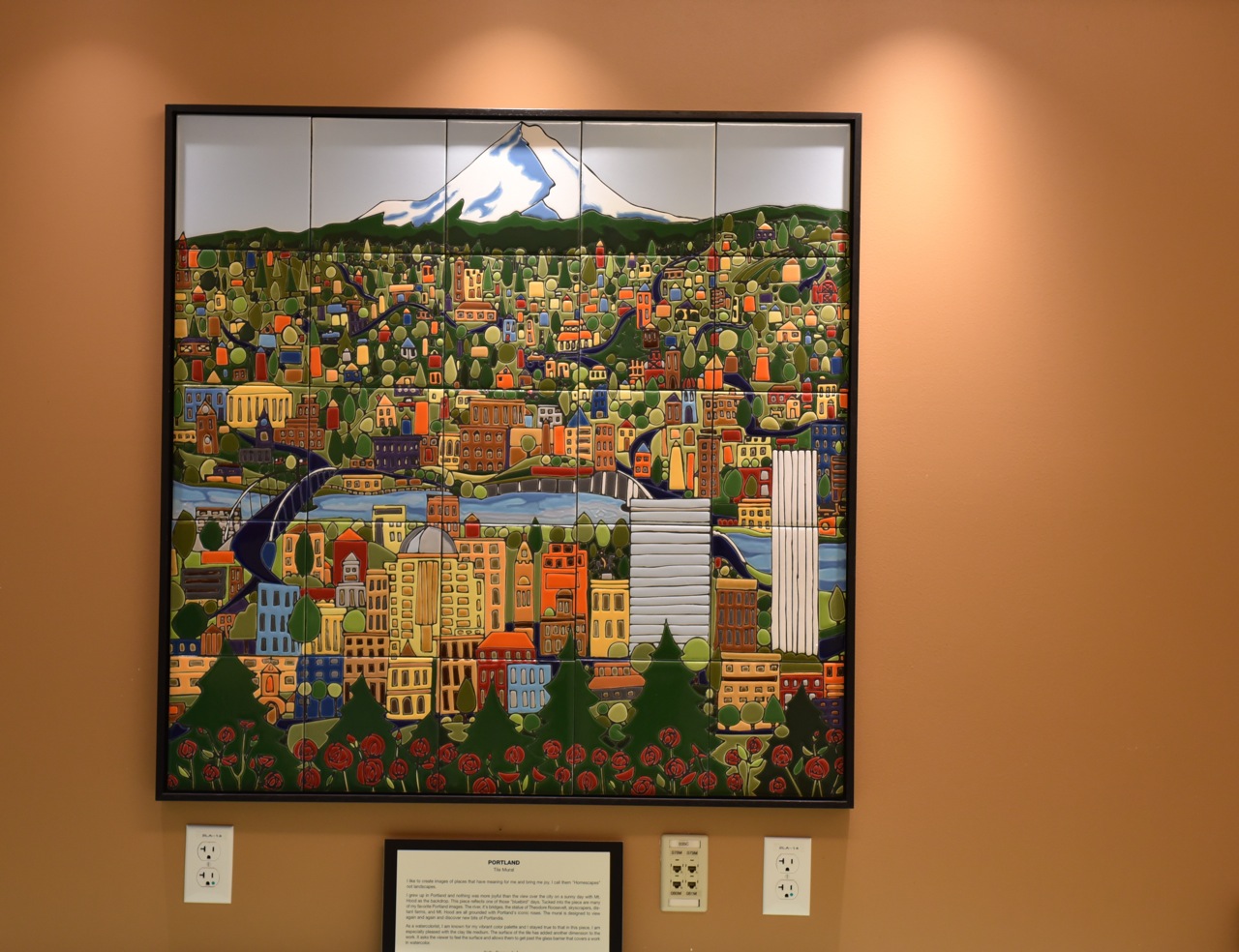 Katty Deggendorfer "I like to create images of places that have meaning for me and bring me joy. I call them "Homescapes" not landscapes. I grew up in Portland and nothing was more joyful than the view over the city on a sunny day with Mt.Hood as the backdrop. This piece reflects one of those "bluebird" days. Tucked into the piece are many of my favorite Portland images. The river, it's bridges, the statue of Theodore Roosevelt, skyscrapers, distant farms, and Mt.Hood are all grounded with Portland's iconic roses. The mural is designed to view again and again and discover new bits of Portlandia. As a watercolorist, I am known for my vibrant color palette and I stayed true to that in this piece. I am especially pleased with the clay tile medium. The surface of the tile has added another dimension to the work. It asks the viewer to feel the surface and allows them to get past the glass barrier that covers a work in watercolor."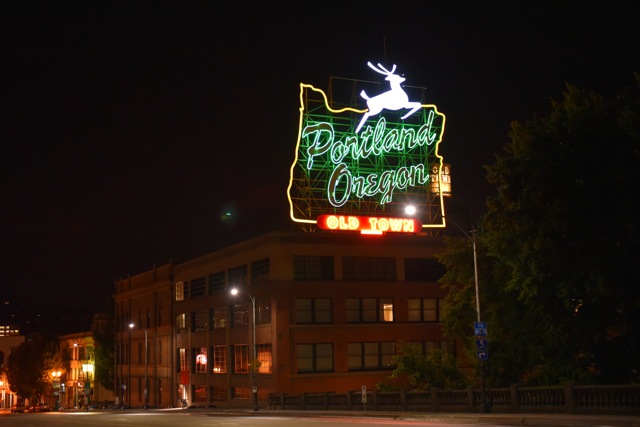 The exalted Ruler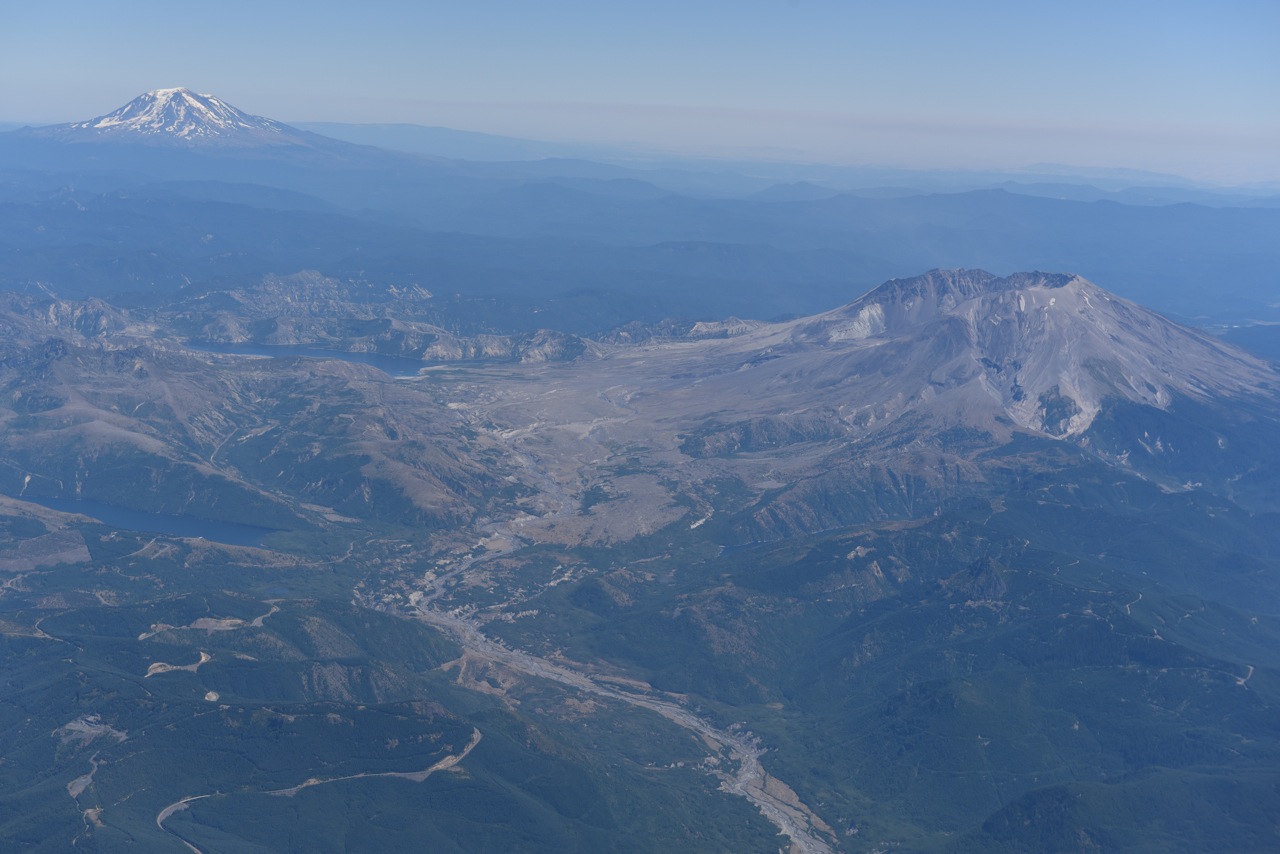 Volcanoes of Oregon

waiting for 2017


May 2015

Présentation de l'OCT angio (OCTA) SFO Paris, France
Dr jean-michel Muratet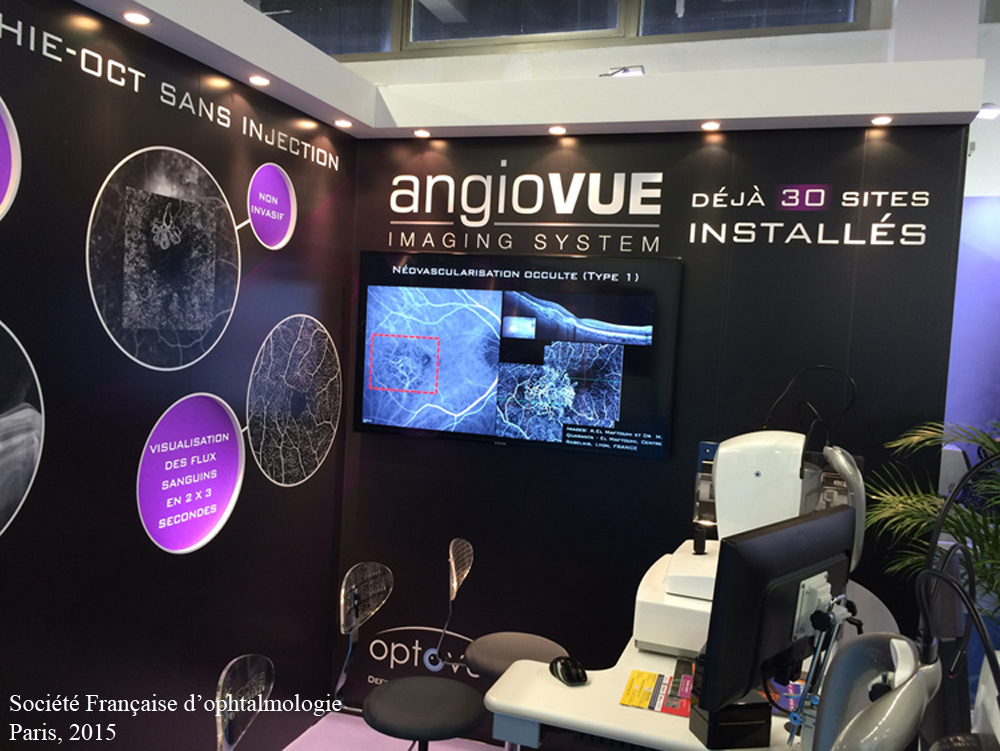 Optovue à la Société Française d'Ophtalmologie, à Paris, en mai 2015 (angiovue)


Novembre 2014

Présentation de l'OCT angio (OCTA) AAO Chicago, Ilinois, USA
Dr jean-michel Muratet (France)
Aucun intérêt financier dans les sociétés évoquées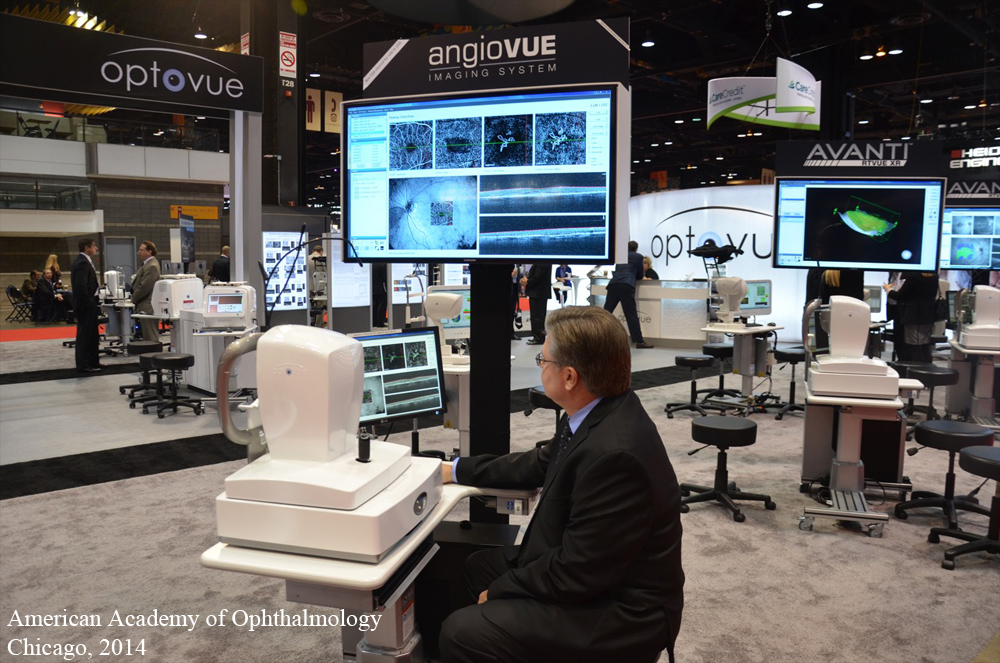 Optovue à l'American Academy of Ophthalmology, à Chicago, en octobre 2014 (angiovue)